Sahaj Healing and Soul Consciousness Lab are 100% focused to provide you with the best, most advanced, most modern, and 100% successful world class Holistic Healing Therapies and topmost internationally accredited, and approved

Professional Training Services

.
Services of Individual Therapy Sessions- Online Zoom Video Sessions & Face to Face Sessions
Our world-class Professional Therapy services include individual, & client focused therapy sessions which are unique and integrate many advanced healing modalities as per the need of the client. Mrs. Rashhi Sharma is one of the Most Qualified therapists of the world who is an absolute authority in Multi-Dimensional areas of various modalities. All her expertise and the topmost institutes/teachers are listed below and on her biodata page as well. Please ensure to check these very carefully as these are the details which ensures your  100% Success, Your 100%  healing and 100% genuineness.  These are the areas which generally all the clients ignore and therefore they get half and partial results or no results at all with other therapists across the world.
Most importantly you must know that , Mrs. Rashhi Sharma has developed a very unique and highly efficient therapy modalities which always ensures 100% results and 100% success rates out of each and every therapy session. Please do check this for every therapist you visit !!
All of the therapy sessions prime focus is to work directly with the Subconscious Mind and  the Soul. The different therapy sessions use Clinical Hypnotherapy, Past Regression Therapy which includes Hypnotherapy, Inner Child Healing, Spiritual Progression (Future Life Progression), Womb Regression, Shamanic Healing, Akashic Records Reading, Spiritual Mediumship, Out Of Body Experience, Astral Travel, Remote Viewing, Energy Medicine etc.
Please note Mrs. Rashhi Sharma is qualified at the most advanced levels in the entire world in all the healing modalities which are listed above. Her accreditations, certifications, teachers are all listed below.
Below is a summary of the therapy sessions:
What's a Therapy session, What are the types of therapy sessions conducted?
– For Personal Therapy or healing, individual healing sessions are conducted. Each session is a one to one interaction with Mrs. Rashhi Sharma. Each session is unique and the session duration is not fixed, it's a real time event and there are many factors which determine the duration of the session.
The duration of the session has no relation to the session quality or impact. In general, we can categorize  the therapy sessions as-
Integrated Hypnotherapy Sessions (IH Sessions)
These sessions are essentially spiritual regression & hypnotherapy sessions. These are the most common sessions which are needed in case you need help with issues pertaining to physical, mental, spiritual & emotional areas of your life. If you are looking to  find the root causes of the issues and then heal them, and transform yourself positively, then these are the therapy sessions which are recommended.
Includes a combination of: Past Life Regression/Hypnotherapy/Womb Regression/Inner Child Healing– IH Therapy Session includes these or a combination of these based on your requirement  which is decided by Mrs. Rashhi Sharma only.
In brief, these are the most common areas of life issues where we start with the Integrated Hypnotherapy sessions.
Relationship Issues: Any type of relationship issue you can imagine in the world is wonderfully healed and transformed using these sessions. In the relationship issues, the prime focus is to find the Why's of the specific relationship issue. We deep dive in the soul's journey (current life, mother's womb and past lives) to find out the roots of the relationship and get to know the answers of  many questions, including "Why I myself chose this person or persons in my current life? Remember we ourselves are responsible to choose a specific person in our life and we do it ourselves because of the past karmic bonds, curses, anger, love, wows contracts, and beliefs.  During the IH sessions, we ourselves find out about who are these people who are negatively impacting us physically, emotionally, spiritually and mentally.

Resolving negative/limiting patterns in Life: The patterns can be – Failure in all relations, Failure in financial matters, Business failures, pattern of Cheating by business partners, Negative Beliefs, Resigning from the Job, Always hating others, etc.. It can be any pattern you observe happening repeatedly in your life.

Any sort of Fears/Phobias in Life

Anxiety/Depression

Any sort of Addiction: Porn, Drugs, Alcohol, Gaming, Mobile, TV, News, Robbery, Stealing

Overeating and Obesity

Weight Issues

Smoking

Childhood Trauma in general

Child Sexual Abuse Trauma

Going through grief due to the loss/death of a loved one

Talking and meeting the Soul of a loved one who is dead and you have la lot of questions/trauma/un-assimilated pain because of them.

Feeling Guilty for anything wrong you have done in your life – Cheating, Molesting, Hitting, Anger, Blaming

Going through a tough marriage or divorce and you want to know why it all happened and what to understand: Why me?"

Your kid is a Special Child and you blame yourself or the kid? Autism/ADHD etc.

OCD: Any form of Obsessive Compulsive Disorders you have

Unsolved Medical issues where medical science could not diagnose the issues or medical science has no solutions at all. 1 Example – You are a normal couple with no medical issues but you are unable to conceive.

Anger Issues, Character issues

Sexual Orientation issues (gays/lesbians, why so?)

Human Spirit or Fragment of Human spirits/souls attached – Paranormal issues are dealt in separate sessions, you must brief us about any paranormal experiences.
The above list is incomplete. The list can be of more than 100 pages if we try to write down everything where we can take help of the IH sessions !!
Fixed Fees/Session | Avg. time 3-4 hrs. (not fixed)
Mode: Local and Online both are possible. Check our Skype Page for Online Sessions information.
Future Life Progression Therapy Session
Future Life Progression
Fixed Fees/Session | Avg. time 3-4 hrs. (not fixed)
Life Between Lives Therapy (This session is done after PLR only)
Fixed Fees/Session | Avg. time 5-6 hrs (not fixed)
Mode: Local face-to-face only. OR Skype (based on discussion)
Akashic Records Reading
Fixed Fees/Session | 45 mins average
Shamanic Healing
Fixed Fees/Session | 1-1.5 hrs average
NOTE: Regression and Progression Sessions are unique sessions, these can't be combined together in one session.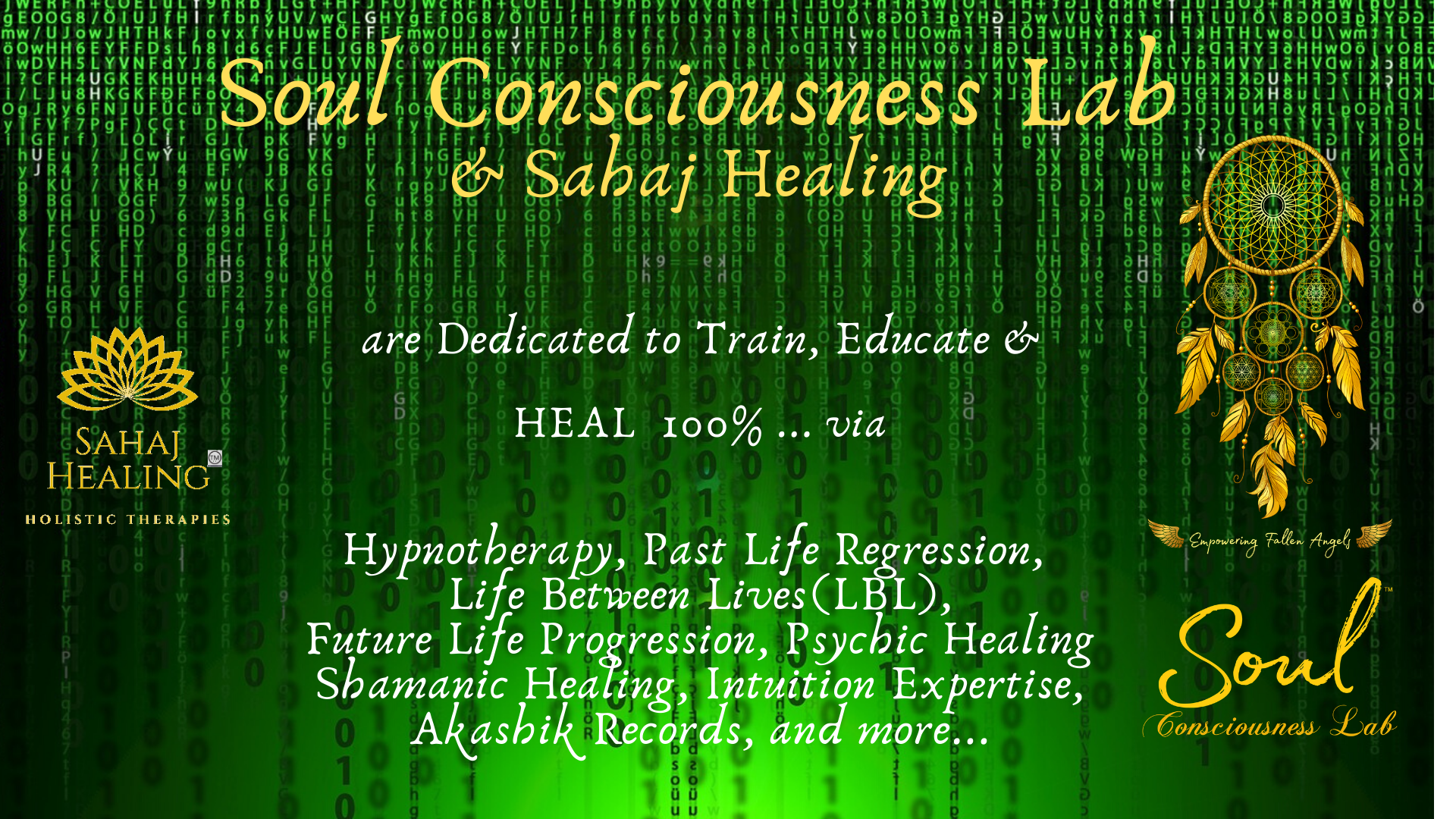 Soul Consciousness Lab for Professional Training (Separate English & Hindi Language Batches)
The World's "Most Advanced Training Offerings" by Soul Consciousness Lab have been rated the Best, No.1, Most Advanced & Un-Paralleled in Indian History by all the students who have attended!
Mrs. Rashhi Sharma is of of the Most Qualified, experienced and successful Trainers of the world for all the below modalities of Hypnosis, Spiritual Regression, Progression, Shamanism, Akashic Records  & many Advanced Spiritual Awakening, and Healing modalities.
Mrs. Rashhi Sharma is the 1st and Only NGH USA certified Instructor for Hypnotherapy in India & she is also a certified Trainer & Therapist for all the below modalities. She teaches from basic to advanced levels in the residential & Live Online Training Programs which are focused on 100% experience-based learning only.
Theory concepts are derived from the experience only.
Internationally Certified Trainer for:
Certified Trainer for Basic to Advanced Clinical Hypnotherapy (NGH USA Hypnosis Certification) – The 1st and Only one in India.

Transpersonal Hypnotherapy & Past Life Regression( International Accreditation by Soul Consciousness Lab & IPHM UK)

Future Life Progression( International Accreditation by Soul Consciousness Lab & IPHM UK)

Shamanism(International Accreditation by Soul Consciousness Lab & IPHM UK)

Akashic Records( International Accreditation by Soul Consciousness Lab & IPHM UK)

Psychic Powers Development ( International Accreditation by Soul Consciousness Lab & IPHM UK)

Spiritual Mediumship( International Accreditation by Soul Consciousness Lab & IPHM UK)

Out Of Body travel ( International Accreditation by Soul Consciousness Lab & IPHM UK)

Psychokinesis( International Accreditation by Soul Consciousness Lab & IPHM UK)

Remote Viewing( International Accreditation by Soul Consciousness Lab & IPHM UK)

Consciousness Expansion( International Accreditation by Soul Consciousness Lab & IPHM UK)
There are separate batches which are conducted in 2 languages:

ENGLISH (International batches) & HINDI (Local Indian) batches. 
REMEMBER- WE DON'T CROWD OUR BATCHES LIKE OTHER TRAINING PROVIDERS, WE FOCUS ON QUALITY ONLY, NOT QUANTITY, SO OUT TRAINING BATCH SIZE IS 12 STUDENTS PER BATCH
All the Professional Training has 15-21 Unique Un-Paralleled features, Un-Matched features, which are NOT a part of ANY similar International OR National Training program. These can be verified 100% and discussed in detail before joining the Training.
Click

HERE

to read these features and HERE to watch a Video. These are for the Past Life Regression training. Ask for the features for other training.
All of Soul Consciousness Lab's training offers you
Triple Accreditation –  from NGH USA,  IPHM, UK, & Soul Consciousness Lab – It enables you to get certified as one of the best international, Professional Therapist in any part of the world. It includes USA, UK, Australia, Canada, Europe, along with other countries of the world. The therapists trained with Mrs. Rashhi Sharma & Soul Consciousness Lab are working successfully in India, Australia, USA and Switzerland now.

 It enables you to get always 100% results in each and every therapy session you conduct.

All the residential training are done in a beautiful nature resort where you not only learn, and practice but it also ensures the unfolding of your own spiritual experiences and journey. It's a SPIRITUAL RETREAT. Everyone who has attended our training has had wonderful spiritual experiences, and these practical experiences make all our training stand apart from any other similar training courses. We believe that until and unless you learn by your own practical experience by extensive practice during the training itself, you can't be a confident & succesful therapist.

We provide 100% free lifetime support after all our training programs and would like to help you grow always with us. We conduct an extensive, in-depth personal coaching on business setup, client handling, marketing and also  help you to start your own profession as a therapist. We also recommend you to our own clients.

We provide huge discounts to our alumni in our other training courses, and we also offer them to join the journey with us. We are expanding in India and other parts of the world, and need genuine therapists who are willing to join us and expand their horizons. You're welcome!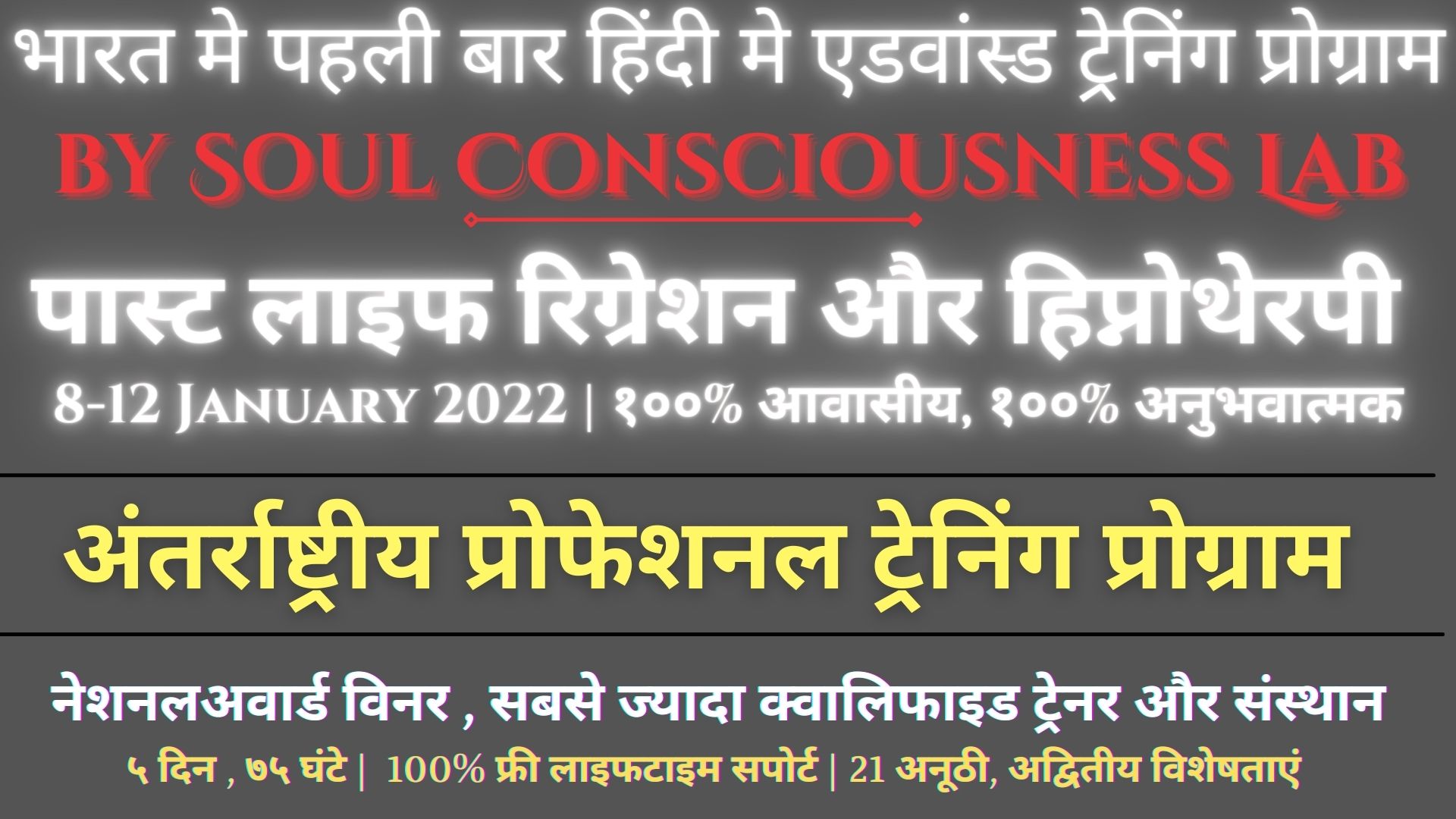 ५ दिन , ७५ घंटे  | 100% फ्री लाइफटाइम सपोर्ट | 21 अनूठी, अद्वितीय विशेषताएं
https://rashhisharma.com/wp-content/uploads/2021/04/Training-21-features-ver1.pdf
Soul Consciousness Lab's official YouTube Channel for reviews, awards, free Hypnosis:
www.youtube.com/SoulConsciousnessLab/Videos
Check our Public google reviews and rating
https://g.page/SahajHealing/
All the below training programs are Live and  are being conducted :
Certified Trainer for Basic to Advanced Clinical Hypnotherapy (NGH USA Hypnosis Certification) – The 1st and Only one in India.

Transpersonal Hypnotherapy & Past Life Regression( International Accreditation by Soul Consciousness Lab & IPHM UK)

Future Life Progression( International Accreditation by Soul Consciousness Lab & IPHM UK)

Shamanism(International Accreditation by Soul Consciousness Lab & IPHM UK)

Akashic Records( International Accreditation by Soul Consciousness Lab & IPHM UK)

Psychic Powers Development ( International Accreditation by Soul Consciousness Lab & IPHM UK)

Spiritual Mediumship( International Accreditation by Soul Consciousness Lab & IPHM UK)

Out Of Body travel ( International Accreditation by Soul Consciousness Lab & IPHM UK)

Psychokinesis( International Accreditation by Soul Consciousness Lab & IPHM UK)

Remote Viewing( International Accreditation by Soul Consciousness Lab & IPHM UK)

Consciousness Expansion( International Accreditation by Soul Consciousness Lab & IPHM UK)