Online Hypnotherapy, Past Life Regression, Future Life Progression, Life Between Lives and other Therapy Sessions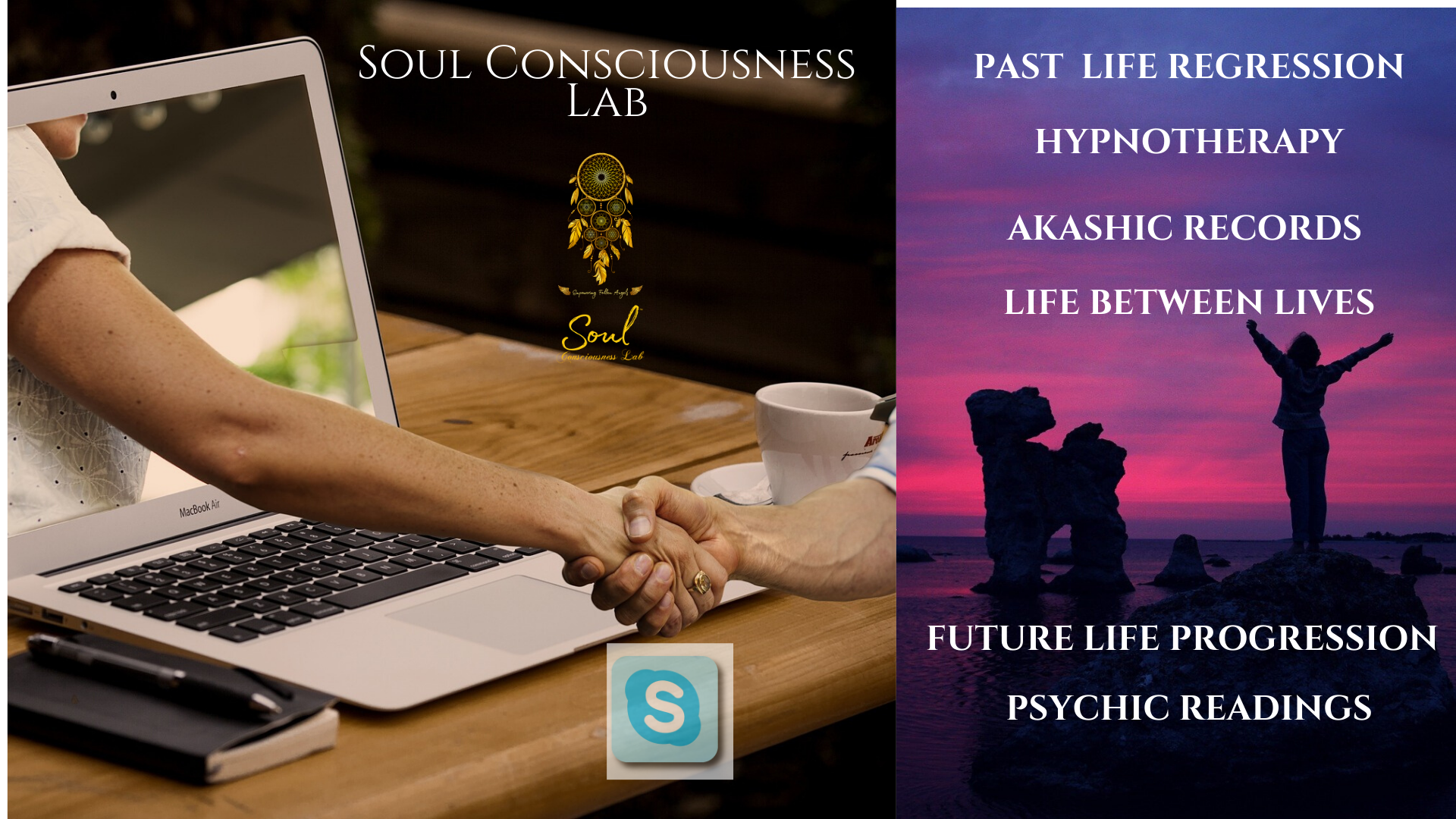 Meeting on Zoom or Skype or other similar video service platforms gives you the same level of attention, and the same methods of hypnosis/Regression/Progression/Healing that I provide to people in my office. The only real difference is you can be anywhere in the world and still meet a me.
Before I book a an Online therapy session, there are few very important considerations and requirements as per my experience so far, please go through the below QnA carefully:
Let's start with an important question, I have answered on Quora, as many have these doubts:
Answer:
Hi all,
Online therapy using Hypnotherapy, Past Life Regression, Life Between Lives, Future Life Progression, and Akashic Records,  is possible and it's an easy and effective alternative in case you are unable to travel to the therapist due to any reasons. Details below-
these are few considerations before you opt for it
Go for it if you can trust that it works, yes, trust is the basic factor. It's ok and normal that everyone is not comfortable for an online therapy session initially, and it's the responsibility of the client to assess that if she/he is comfortable and ready for it.

Then, second important factor is the therapist's point of view: If therapist is offering it then ask for the needed setup, process, and evaluate if this suits you. And if the therapist is experienced and qualified enough, online therapy sessions can be really beneficial and these have same results as of the face to face sessions, if that specific issue can be dealt online (check this with therapist)

In the case you are not comfortable for the 1st session to be online, and you need to meet the therapist, yes go and meet him/her for the first session. And the next sessions can be online sessions as you have built that comfort zone, that trust which you needed in person.
I prefer to listen to the client, talk in detail and on this journey explore if online session would be best for the client. This is very important step.
Now, coming to the part of "Does it work?"
Yes it works, and I can tell by my experience and my client's experience that it works with same effectiveness, success and results as the normal face to face session does. Few notes here
It may take a longer time to get the relaxation, that too only sometimes, in 1 out of 100 cases, but that is compensated by shorter discussions 🙂 as we tend to focus more to the point during online sessions, that's my observation. It however has no impact on the effectiveness, let me repeat again.

You need to ensure good internet connectivity,  only wired broadband Or  WIFI connection is preferred.

Check the surroundings of the client, no disturbances should be there. None should hang around the client, else chances are that the effectiveness would be lost.

A quite room and a comfortable bed or recliner is needed.
Watch below 2 LIVE ONLINE Past Life Regression Session conducted between India & the USA  which helped the client to overcome life-time issues
This is a part of our research work conducted to spread right information & awareness among the masses & to educate hypnotherapists
If all these are fine, then the benefits of online sessions are too good
You save on the travel time

You can do it at your own convenient time, therapists offer flexible timings for online sessions

costs are same as a face to face session.

The best one is that you are not limited to find a therapist in your own locality only, but you are free to chose anyone around the world. You have lot more choices, and can find  world's best qualified therapists easily. Do not compromise on the quality!
So, go for it. During lock-down time, this has helped lot of people, and I can see that this can become a new normal as well.
All the best.
Rashhi Sharma, Trainer and Therapist
CHt (USA), MHt(USA), PFL DIp (UK)
Customers from Around 80+ Countries have testified that ONLINE or OFFLINE the therapy sessions with Mrs. Rashhi Sharma have the same impact, 100% results always!!!
Few Latest Reviews about ONLINE Hypnosis, FLP, Past Life Regression & Life Between Lives (LBL) Therapy sessions with  Mrs. Rashhi Sharma..
Kuunal Davwar Says in his video review…
With Rashhi It doesn't matter at all if you're with her or sitting 1000 kms away, you feel the same comfort and ease, and the results are same 100% always… in turn it's an added advantage that you can take the sessions from the comfort of your home, without any hassles of travel etc… 
Watch all our 600+ customer reviews on our Testimonial Page

Q: Can anyone book an Online therapy session, irrespective of the fact that it's a first session OR he/she have not met me before personally?
A: YES anyone can book an  or Online Therapy session from any place, if he/she meets all the requirements for online therapy session as per below guidelines.
Mrs. Rashhi has conducted 1000's of successful Skype therapy sessions for clients from many countries  including, USA, Hong Kong, Dubai, Singapore, Canada, Europe, New Zealand, Ireland, U.K, South East Asia, Australia and Russia and 80+ other countries.
Skype/Online sessions booking is done considering the below general guidelines,
1.

The Problem or  the Issue

:
It's very important to understand the issue in detail before starting a therapy session. There are  very few situations or issues where the personal face to face discussion and therapy session is a must and online session won't be able to provide that secure environment which is  needed for the situation. The person may not be in a right psychological or emotional state to meet online. You  need to discuss the issues/areas of therapy on a call with us, so that we can guide you here.
In  general, 99% of the issues covered under hypnotherapy, PLR, FLP, LBL , Akashic Records, or Shamanic Healing can be handled on online sessions. 
Before an online therapy session, we need the below mandatory,

– full details of the issue or purpose of session on email,
@ therapy.sahajhealing@gmail.com 
– This is followed by a

telephonic conversation

of 10 mins to understand the actual requirement and for other assessment.
– Finally the technical requirement and the per-requisites must comply, see below.
2.

The first session

:
The first session is the most important in any therapy. It establishes the trust, and our conscious mind accepts the therapist and more often judges the therapist before accepting him/her as someone with whom you can open up fully and can provide the most essential and personal details which are needed for the therapy to be effective.
It's a basic human nature to trust more when we meet someone face to face. And TRUST is the most important factor in these therapy sessions as we allow our subconscious to be opened up before the therapist!
So, as a general rule, before the first session, we ask you to do a thorough research about  Mrs. Rashhi, our therapy results,  the google and youtube reviews, wath TV interviews with Mrs Rashhi Sharma, read FAQs, check our process, and check if we can meet your expectations.
3. Culture:
Mrs. Rashhi  Sharma has traveled extensively in the USA, Europe, Dubai, Thailand, Indonesia, Singapore and Australia for training and therapy,  and she has worked very closely with the clients, and therapists from different cultures, nationalities and all age groups.
So, be assured that you would feel extremely comfortable and safe with her., irrespective of your Nationality, Culture, Religion or Age.
Please do check her therapy and training reviews which have been posted by people from all over the world.
Everyone is welcome!
4. Pre-requisites of an online session to be met: 
Except all the above considerations, the most important is to know that the basic requirements are met.
a. a Quite room where none can disturb you for 3-5 hours.
b. an Excellent broadband internet connection with no power cuts.
c. Peaceful surroundings where the client can relax. Most often doing a session where you live and are already stressed out there, would not help you to relax better. The change of environment, where the client feels safe and is sure that none can listen/distract is important. If the client feels he/she doesn't have a place where these conditions are met , we should not do online sessions.
Q: Is the fees for online session and face to face session same?



A: Yes, it's same.
Q: What technical requirements are to be met for online session?
A:  We do Online sessions on Zoom App. So you need Zoom App login, excellent broadband for seamless video, 1 device with Video calling, good headset/earphones- wired/wireless,  a quite room, a comfortable bed or recliner and 100% TRUST!!!
Q: Can all the follow-up sessions be online sessions?
A: Yes.
Q: What is covered under a Hypnotherapy session with Sahaj Healing?
A: Hypnotherapy for us covers everything including, Age regression, current life regression, Inner Child Healing, Womb Regression, Past Life Regression, Life Between Lives (LBL) and Future Life Progression. LBL and FLP are separate  special sessions, based on the need. Rest all is covered under the General Therapy Session. See the Below for clarity.
 
---
---
PROCESS TO BOOK AN ONLINE  THERAPY SESSION
Q: What's the process to book an Online  Therapy Session?

A: Please follow the below steps to book an Online Therapy session.
1. Check all information about us, our credentials, international membership, reviews, therapy process and results.
Read FAQ's HERE
Credentials HERE
2. If you are confident to go ahead, Contact us on
    

WhatsApp or Phone : +91-9886933911
3. Clarify everything else– the session fees, availability, any other open queries, and if you want to go ahead, send an email to Mrs. Rashhi for the session purpose

   email: therapy.sahajhealing@gmail.com
4. Once the email is received, we would schedule a 10 min, phone call to ensure certain important per-requisites.
5. Full session fees are to be paid in Advance at the time of booking a session, as per the available date and slot. Advance booking by 2-8 weeks is a must else the availability is not ensured.
6. Cancellation/Reschedule/Refund Policy:
Read FAQ's HERE
Thanks!
Frequently Asked Questions for Online Sessions
How can Hypnosis, Regression, Progression, LBL etc be possible Online. In fact, most of the hypnotherapists say that even in a face to face session there are only 50% chances that anyone can be hypnotized?
Ans:
Yes, mostly this is the lame excuse provided by all the hypnotherapists to hide their incompetency to get 100% success rates for all the clients and all the sessions whether it is Clinical Hypnosis, Past Life Regression, Life Between Lives, Future Life Progression, Inner Child Healing, Womb Regression or any other healing.
Of most of the hypnotherapists in India, 99% of them are either NOT TRAINED at all OR are trained at a very basic level. So, their techniques are also very basic and the results are also basic with less than 50% success rates. But, when they fail they put all the blame on to the client and give excuses like
Your mind is very restless
you must do meditation for a month, and then they will sell you their meditation CD or give you some exercises to do. These are all useless.
You can't be hypnotized as you have a very high IQ.
You can't be hypnotized as you are very logical-minded.
You can't be hypnotized as you are not Visual.
OR, they will sometimes fool you by saying that "I have done the hypnosis and if you did not feel anything do not worry, the work has been done"
There is also a scam running in India by Online Astrology services company where they will take your birth details, and they will read your astrology chart and past lives as per astrology and  will claim that this is Past Life Regression session or a Hypnosis session.
Now, with Mrs Rashhi Sharma you are assured that these will not happen. She is one of the most qualified therapist and trainer in the whole world and she uses her secret and most advanced methods which always work and provide 100% success, ONLINE or OFFLINE.
So, it's the capability of the therapist, their training, their experience and the versatile approach which ensures 100% success rates.
Mrs Rashhi Sharma's Hypnosis, Past Life Regression, Hypnotherapy , FLP etc training programs are attended by working hypnotherapists, PLR therapists, and experienced people because they have understood that her techniques are the best in the whole world and they also want the same 100% success in ONLINE and OFFLINE hypnosis sessions.
What Would Happen if the Internet Connection Goes Off during an Online session, would I be stuck in Hypnosis OR Would we need to restart the whole process from beginning?
Ans:
During any Hypnosis session with Mrs. Rashhi Sharma, in case the session gets interrupted due to internet or power failure, the below happens
Firstly none can ever get stuck in Hypnosis. This is a LIE that has been spread by religious organizations, unqualified hypnotherapists, and other people who know nothing about hypnosis. We have clarified this and many other LIES on our website page "Myths vs Truths" Click HERE to read all the MYTHS and LIES before booking a session.
Now, whenever the session is interrupted, you'll know automatically that Mrs. Rashhi is not speaking and you are alone on the video call. So, as you are NOT SLEEPING in the session, you are conscious of everything around you, and you are also aware that the session has stopped. So you'll naturally open your eyes and would re-connect the video call.
Once you have connected back to Mrs. Rashhi Sharma, she'll ask you to close your eyes again and with a simple command, she'll ask you to go to the last event of the hypnosis/Regression/Progression/LBL session. Within a second, you'll just connect back to that event only where the session got interrupted. It may be a past life event, a deep hypnosis state, future life event, of a Life Between ives event.
So, you just connect back with Mrs. Rashhi online and the session continues normally from the same point where the interruption happened.
Which App is used for the Online Sessions?
Ans:
We use the Licenced version of the Zoom App for the Online sessions. We'll provide you the Zoom meeting Link which you can join using your phone, laptop, or tablet.