Q: I can see that you provide services under the banner of "Sahaj Healing" and "Soul Consciousness Lab". Are these both your oganizations and what's the difference? What services are provided by each?
A: We have 2 organizational units, one is for Therapy, the "Sahaj Healing", and the other is for Professional Training Courses, the "Soul Consciousness Lab". Both of these work together to provide a full range of professional therapy and training services across the globe.

Both of these units cover the below therapy modalities, globally, for Therapy and Professional Training services.
Hypnotherapy- All Modalities covered Under Transpersonal Hypnosis & Clinical Hypnosis 

Self-Hypnosis and Manifestation

Past Life Regression with Womb Regression, Age Regression, Inner Child Healing

Life Between Lives Therapy sessions, Approved, Original, and authorized/copyrighted from

"The Michael Newton Institute, TNI, USA."

Core Shamanism  (internationally certified at Advanced Level by FSS USA in Thailand/Indonesia)

Psychic Work  (internationally certified at Advanced Level by Anne Jirsch in UK/Dubai)

Intuition Expertise (internationally certified at Advanced Level by Anne Jirsch in UK/Dubai)

Akashic Records Reading

Out Of Body Experience

Astral Travel

Remote Viewing 

Psychokinesis

Energy Medicine

Brain & Mind Sync

Spiritual Mediumship
Ckick here 

to know about the LBL session done by Sahaj healing, Rashhi Sharma
This also explains why the LBL sessions are done after PLR session only as per the process of TNI, USA, followed by Rashhi Sharma
Future Life Progression

Shamanic Healing

Akashic Records reading

Psychic readings

Spiritual Tarot/Numerology/Astrology

LBL Spiritual regression Sessions

Spiritual Tarot: It's not done separately, its part of a therapy session.

Astrology/Numerology: These are not done separately, these are part of a therapy session.

Core Shamanism  (internationally certified at Advanced Level by FSS USA in Thailand/Indonesia)

Self-Hypnosis and Manifestation

Psychic Work  (internationally certified at Advanced Level by Anne Jirsch in UK/Dubai)

Intuition Expertise (internationally certified at Advanced Level by Anne Jirsch in UK/Dubai)

Akashic Records Reading

Out Of Body Experience

Astral Travel

Remote Viewing 

Psychokinesis

Energy Medicine

Brain & Mind Sync

Spiritual Mediumship
Q: Do you provide services of training and therapy for only "Hypnotherapy and Past Life Regression Therapy" OR are there any other holistic healing mdalities covered?
A:

Our both units cover all the below healing modalities from basic to advanced levels globally, for Therapy and Professional Training services.
Hypnotherapy- All Modalities covered Under Transpersonal Hypnosis & Clinical Hypnosis 

Clinical Hypnosis – NGH USA Certification

Self-Hypnosis and Manifestation

Past Life Regression with Womb Regression, Age Regression, Inner Child Healing

Life Between Lives – ONLY Therapy sessions, not training,  Approved, Original, and authorized/copyrighted from

"The Michael Newton Institute, TNI, USA."

Core Shamanism  (internationally certified at Advanced Level by FSS USA in Thailand/Indonesia)

Psychic Work  (internationally certified at Advanced Level by Anne Jirsch in UK/Dubai)

Intuition Expertise (internationally certified at Advanced Level by Anne Jirsch in UK/Dubai)

Akashic Records Reading

Out Of Body Experience

Astral Travel

Remote Viewing 

Psychokinesis

Energy Medicine

Brain & Mind Sync

Spiritual Mediumship
Ckick here 

to know about the LBL session done by Sahaj healing, Rashhi Sharma
This also explains why the LBL sessions are done after PLR session only as per the process of TNI, USA, followed by Rashhi Sharma
Future Life Progression

Shamanic Healing

Akashic Records reading

Psychic readings

Spiritual Tarot/Numerology/Astrology

LBL Spiritual regression Sessions

Spiritual Tarot: It's not done separately, its part of a therapy session.

Astrology/Numerology: These are not done separately, these are part of a therapy session.
Q: I am new to the healing modalities as mentioned here, but I have got to know that my present situation can be helped out by using hypnotherapy, past life regresssion or other spiritual healing modalities. So, how do I decide which therapy would suit me and why? I am confused, please guide me.
A:
This is a very common query,
In general, the therapy depends on the issues only.
So, once you come and discuss with Mrs. Rashhi your issues, she would decide and let you know what therapy would suit you and once you understand/agree, then only she proceeds with the therapy.
OR
we need the details of the issues which need to be addressed for providing this information. , We try to provide this by asking the client to write down an email to Mrs. Rashhi on her personal email id, and encourage you to write down anything which needs attention, or anything the client feels has an impact on the present situation where he/she needs help now.
Then, once the email is received, Mrs. Rashhi would either reply to the email or would ask  Mr Arrjun would discuss with you on a call, at a very high level, and brief regarding the possible therapy and course of action based on the provided information.
It's important to know that the course of action and therapy may change, once the client visits Mrs. Rashhi for therapy, as most often there are a lot of hidden issues, or details, that the client never discloses on the phone or email and opens up only during a personal meeting.
Still, this helps a lot in establishing the possible course of therapy at a high level.
Q: Is there any difference between the results of a face to face therapy session and an Online Skype therapy session?
A:
NO, there is no difference.
Mrs. Rashhi is world-famous for 100% success rates, in both Online and Offline sessions. You can understand this by the very fact that a lot of certified hypnotherapists have attended her professional training programs for Past Life Regression and Hypnotherapy, just to learn her secret methods and process which always works with 100% success.
The effectiveness of a therapy session with Mrs. Rashhi is the same whether you take a session face-to-face OR online. Mrs. Rashhi has developed a very unique and foolproof therapy technique and methodology which is always 100% effective irrespective of your physical presence.
The most important aspect is her advanced hypnosis techniques, which are the most advanced, flexible, and unique, and based on her experience of more than 6500+ sessions she has conducted till October 2022 for around 80+ countries.
She has taken more than 1500* online sessions globally already by October 2022, and these have been 100% successful irrespective of the location of the client in any part of the Globe.
Now, on average, we do 70% of our sessions ONLINE only. Our customers who have availed of Online sessions are in  :
India (all states of India), United States Of America, Australia, Switzerland, New Zealand, Europe, Russia, Italy, Dubai, Singapore, France, Spain, Canada, Thailand, Indonesia, Hong Kong, Saudi Arabia, Qatar, Nepal, Philippines, Ireland, Srilanka +++. 
Moreover, the online skype sessions have a unique EDGE and provide you with much better options and freedom. It saves your travel time, and you can do it from the comfort of your own home.
See this customer review which helps to understand it better. We thank Mr Shikhil for is an unsolicited opinion that helps everyone to understand the benefits of online therapy and the need to move ahead from face-to-face to online past life regression and hypnotherapy sessions.
The below customer review is from Shikhil Sharma from New Delhi, India. 
This is just a sample review (actual review), there are more than 600+ client reviews, please visit our REVIEWS PAGE.
The review is for Online Skype Hypnotherapy and Past Life Regression sessions in India.
Hi!
Its a review regarding my Online Skype therapy sessions with Rashhi.
I am a traveler, into adventure sports activities and I am always outdoors hopping places around the world.
I had taken 2 sessions earlier, for hypnotherapy and Past Life Regression, where I took help of 2 therapists after meeting them in Mumbai and Delhi, and I did experienced.
I would say that I was not satisfied, these were not very deep sessions, the hypnosis state was feeble, did not reveal much of importance. There was almost no change after the session.
As I took only 1 session each from both therapists, I was told that it would need 6-7 sessions till I would reach the deep hypnosis, and at least 2 sessions to reach past life state.
Even I was convinced with the logic, and I have also read it, heard it on YouTube etc. that it's not easy to get to deep hypnosis and PLR. So, I took it for granted. Also, my travel plans don't allow me to take 5-7 sessions from same therapist as I was suggested.☹️
Now, nearly 2 months earlier, it happened that I found that Mrs Rashhi conducts online therapy sessions for hypnosis and PLR. When I checked in detail about her, I was really very impressed by her very high credentials and amazing reviews from across the globe.
What impressed me that she mentioned openly on her website about therapy success rates, no need of package of sessions, 100% success and much more about every aspect we must know!!!
NO other therapist have ever told these things ever, and moreover it gave me a confidence that I can not at least try 1 online session and if it's good I could easily continue my therapy , she being able to help me online with same results as personally meeting with her.
So, I had my first interaction and session… and BOOM… that was it! OMG.. it was something I never even expected, and the earlier sessions looked like I was made fool, really they were not even close to 5% of what she was able to do in just the first session and that too Online..
Her method was very unique, highly professional, very intense and I never could knew how easy it was to achieve the deepest trance in the first attempt.
I was able to explore my childhood, my presence in my mothers womb and past lives in single session. The 30% of my issues got answered , resolved, and that too along with highest level of understanding and inner connection. It changed me, moved me. The days after the session were amazing, as so many aspects unfolded automatically.
I took 3 sessions and I took these from the comfort of my place from different locations while traveling.
So, it was a life saver, a life changing experience for me. I may go for more sessions, but to explore something else later.
I am thankful to Rashhi that she had been so humble and kind with me on my path of healing and change. She is an amazing person, the best in her field of healing and a spiritual guide…
I can say this as per my own experience.
If you are looking for the most qualified and a genuine healer, you can 100% trust, Rashhi is the one.
It's a blessing that she is available Online as anyone in the world can easily connect with her and that too sitting at home.
What else is needed for someone like me ..
Love and Blessings….Cheers
Q:I am from USA/Canada/Australia/Russia/Singapore etc... I need to start my own profession in my country for eg. as a Clinical Hypnotherapist OR as a Past Life Regression therapist, Or as a Akashic Records Reader OR as a Shaman, OR in any of he healing modalities you train under Soul Consciousness Lab. So, if I train with Soul Consciousness Lab would I be able to use the certificates issued in these countries, and is your Training recognized globally? Would I get the insurance benefits as are needed to start my own professoon?
A:
This is very important query, The simple answer is Yes you can use  all of our our certificates, for all the training programs, anywhere in the world to start your own profession as a certified Therapist in the modality you have trained yourself.

Why?
Mrs Rashhi is a Certified Instructor of Hypnosis from the World's number 01 Hypnosis organization, National Guild Of Hypnotists, USA. Her Hypnosis Training are all certified and recognized by NGH USA. She is the only certified trainer of Hypnosis at this level in India and around India. Do check her listing as a CI on the NGH USA website.

We are an internationally approved and accredited

"Executive Training Provider for IPHM UK"

for all of the Training services mentioned as in above FAQs. This means that our all  training courses are approved and accepted internationally, for content and methodology.
In our training we ensure that you are trained with the best and the latest content and tools, which are taught by the topmost therapists of the world.
We are proud to be accredited form the world's best Institutes including Michael Newton Institute USA, The Monroe Institute, USA, NGH USA, FSS USA, Anne Jirsch UK, Banyan Hypnosis Centre USA, OMEGA Institute USA and many more. Check all details on Mrs Rashhi Sharma's about me page.
We have international professional memberships with " National Guild Of Hypnotists, NGH, (USA), and IPHM (UK) .
The therapists we trained in our previous batches are already working in  UK, New Zealand, Nepal, Dubai, USA, Australia, Switzerland and India with an international license valid for lifetime in any country.
Q: How to book a therapy session?
A:
Please follow the below process to book an appointment for a healing/therapy session
1. Call on 9540243388 or WhatsApp on 988693311. It's Soul Consciousness Lab office number and not of Mrs. Rashhi Sharma.
2. Discuss your requirement. Your all queries would be answered regarding therapy, cost, availability of therapy slots.
3. Receive all information. Check it in detail. Do compare it scrutinize it closely. We always encourage you to ask as many queries as possible and try to provide you with professional facts to increase awareness. There is nothing hidden here.
4. If you decide to go with us for therapy sessions, you need to pre-book the session by paying an advance booking fees-, as per suitable and available time slot.
5. The normal waiting time for a therapy session is 4-6 weeks. So, please book the session in advance accordingly. Walk-ins are not allowed/possible.
5. Once session is pre-booked, the first and most important step is to send email to Rashhi describing the purpose of the session. It's mandatory requirement.
6. Come and meet Rashhi according to your booked slot for therapy. You would get preparation instructions, need to follow before the therapy session.
8. All the best!
Q: How can I contact Mrs Rashhi Sharma directly, anytime?
A:
Mrs Rashhi Sharma is not available for a direct contact on the phone number provided on website. These are our office numbers.
Reasons:
She is mostly in therapy sessions (8-10 hrs everyday) with clients and can't talk during this time. And there are 1000's of clients in our list, so it's impossible for her to keep a direct contact via phone or WhatsApp.
To contact her,
1. Call on 9540243388 OR WhatsApp on 9886933911 , and we would be helping you, for any queries you have.
2, If you are contacting us first time, you need to always call/WhatsApp first before sending any personal email to her, as she might not know if she needs to reply or not, if you are really seeking her help or not, due to large number of emails she receive daily.
You would be assisted in all ways and all your queries would be answered, whatever these may be!
thanks
Q: How much do you charge for a therapy session ? Whats the duration of a therapy session?
A:
Therapy sessions are charged according to the requirement, bank account location (for fund transfer fees and additional taxes) and mode, online or face to face. Please check by calling on the contact numbers provided in the above question. or on our contact us page.
Location, face to face sessions:
Bangalore in India.
Dubai/Indonesia/Thailand/Malaysia/Hongkong/USA/Singapore/Italy/France
Location, Skype sessions:
All over world. Please see : https://rashhisharma.com/online-skype-therapy-sessions-with-rashhi-sharma
Duration of a therapy session: 
      Healing sessions are on an average 4 hrs duration.( time is not fixed)
See our "all about therapy sessions page"

Click here

for LBL (life between lives therapy), FLP and other therapy sessions
Q: What's included in a therapy session?
A:
Every therapy session is very unique and it depends on the personal requirement only. In general every session has below steps and all are a part of the session, all designed for 100% results and all are done at the time of session, not before the session event,
All clients have to follow all the steps  without fail , else the session is not conducted.
1. Form Filling- it has questions/process, the first step of the session.
2. Initial detailed pre-discussion and pre-talk, about your issues
3. Regression/Progression/ICH/Integrated Hypnosis/Womb-Regression/Age-Regression/Psychic Work etc whatever is needed
4. Post discussion/Closure
The therapy session– can use any and/or combination of
Hypnotherapy/PLR/FLP//LBL/Shamanic Healing/Aura Cleaning/Pranic Healing/Chakra healing-balancing/Numerology/Astrology/Psychic reading/Akashic reading/Shamanic Healing
Look at the type of therapy sessions we offer , call us 9886933911.
Ckick here 

to know about the LBL session done by Sahaj healing, Rashhi Sharma
This also explains why the LBL sessions are done after PLR session only as per the process of TNI, USA, followed by Rashhi Sharma
Q: How many sessions are needed for therapy?
A: It's important to know that it's a therapy and it involves sessions for helping. The common question asked is " How many sessions would I need for myself?"
Very high level answer:
The answer is that it depends on many factors, and it varies from individual to individual always, it's not like taking a medicine, for a known physical disease, where everyone takes nearly same time to heal. Here, it depends on,
1.

The issue

: What's the issue and how many issues you have. You may have 1 issue or more.
2. Complexity of the issue and since when: It can be a simple issue, or you can have complex issues. Also, from when are you facing this issue? Have you already taken other medical treatments for the issue? Are you on medicine now and since when?
3. How

you respond to the therapy:

It all comes to trust and openness to accept whatever comes up during the therapy session. If you are someone who critically judges everything and are not ready to accept change, you would take more time and sessions. On the contrary ppl who are open and accepting move v fast and are healed easily. Moreover, they experience change in an absolute miraculous way.
It's important to understand very clearly that, the regression therapy would help you by

using your own sub-conscious mind as the main change agent.

The therapist is there to help you to access your subconscious, find the answers, and the root cause either from this life or past lives. Then she would proceed for the healing part. It's up-to you how you take the healing, absorb it, accept it.
4. It's not a black magic (sorry to say it, but mostly everyone comes with this perception in mind), where you pay money and the therapist is then responsible to make changes as per your wish.
On the contrary, this is 100% scientific way of holistic healing where the changes happens by your own subconscious mind. The changes are not as per our wish, or belief system, but these are based on what is the truth, reality and what should happen as per the soul planning and it's your own soul planning not ours.
5. Everyone has their own timeline to heal, and everyone responds differently even for the same issue, as everyone's past is different, life is different. Some respond very fast, some experience changes slowly.
6. The changes may happen in various ways, and the important point here is to be open after the therapy sessions for observation and understand that the changes may not be what you would have thought of or planned for. The changes can happen in your inner world, within you, or around you on the exterior.
These changes can be very profound or feeble as per our limited perception, but the changes matter not how we perceive it. The subconscious knows what to change and how to change and at what pace we should and could take the changes.
For same issues, everyone needs different number of therapy sessions. We can't generalize at all, as everyone is unique, and has a different belief and change system.
Number of sessions needed would be revealed only after the first session, if any therapist can tell number of therapy sessions before meeting and the 1st session, it would be a false information, we don't do that!
We don't provide any packages for therapy sessions as opposed to other institutes as we understand that telling you in advance, any estimate, the number of sessions it can take for your issues to resolve or query to answer, would be a 100% false information/
Howsoever comfortable it may feel to know the estimate of number of sessions for your case, still it's a false information only. Rashhi has only one goal- to heal 100% as fast as possible , and her each session is very powerful, unique and not time bound.
For example: When you can heal in say 2 sessions why should we trll you 3-4 sessions on average or on the contrary if you need 4-5 sessions why should we comfort you by saying only 1 session?
Finally,
Generally everyone gets to know this answer themselves after the 1st session.
Q: What is the duration between 2 therapy sessions if I need to attend more than 1 session for therapy?
A:
It depends on many factors. In general,
If you live in Bangalore, and need more than 1 session, the gap can be 1 week,  2 weeks, or 1 month. The choice is  not yours, it depends on how you responded in the session, and the reveleations in the session, this Rasshi would help you to understand. She would let you know what next has to be done and why.
And mostly 90% of the time you would know yourself when would you need to come next.
For Online Skype Past Life Regression session, or Online Skype Hypnotherapy session, as well Rashhi would let you know when to take next session and why.
If you are coming from outside Bangalore for the therapy, we ask to stay here for few days depending on the issue and your response. Daily sessions are done in such cases.
OR if the issue can be taken care with online sessions after the 1st personal session- face to face, then the followup is done accordingly.
Q: I don't have any issue or problem but I would like to attend a PLR session just for out of curosity or fun, is it possible and how many sessions would I need to achieve this?
A:
In such case only 1 session is enough.
Still, we always encourage to have a very strong and clear intention for the PLR therapy session for many reasons.
Firstly these are expensive and we invest lot of time and energy here, so coming without and intention is wastage of time and money.
Secondly, it's

impossible that there is someone who has nothing to understand in the life,

so it's a wonderful chance to explore, know the real answers, and an ultimate opportunity for positive change.
Thirdly, without an intention we roam around in random lives, and even if there is always a learning from each life, we fail to co-relate and take the benefit of the opportunity.
Q: I have been to many other hypnotherapists or PLR therapists but they were unable to regress me after several tries and enen after attending their meditation and other blockages removing techniques. They have declared that I can't be regressed as my mind can't be relaxed OR I have blocakges within me which won't allow me to regress. So if I come to you, would you be able to regress me and how many sessions would it take?
A:
It's a very common and important question.
We have helped almost everyone in the first session itself, who has visited us and that's why the success rate is very important to know here before visiting any therapist.
We say very confidently that everyone can be regressed, and you need no preparation of meditation, chakra balancing, energy healing etc to attend a regression session,
What's is needed is a unique technique for each individual, and what is needed from the client is

Trust

, to follow the

instructions without judgement

, go with the flow, and

come with a positive mindset

, ask any questions you have before session,

clarify all doubts

.
We have successfully helped 100's of clients who were unable to regress with other therapists even after multiple attempts.
Please check our google reviews here, where our clients have written about our success rates.
Q: What Preparation I must do before coming for a therapy session? Do I need to do meditation or listen to any music to prepare?
A:
There is no preparation needed for a hypnotherapy, Past Life Regression, Future life progression or any other session, if you are visiting us.
We ask to follow very simple instructions, if needed, which are sent directly to the clients, and these are NOT meditation, or listening to music etc.
Q: Do you handle PARANORMAL issues- Spirit Releasement, Black Magic, Health Issues due to negative spirits. human and non-human spirits etc?
A:
Yes we handle these issues. The issues can be handled via Shamanism or Regression Sessions. 
We have answered this in detail in the below Question of FAQ's on this page. PLEASE SCROLL AND READ.
Q: Is there any guarantee provided that I would be able to regress/progress and can achieve a hypnotic trance? If I am not regressed, would I get my money back and why not?
Q: Are there any trial sessions needed before an actual therapy session?
A:
No,

We don't mention trial sessions ever.
There are no trials here. We don't offer any trial sessions.
Only in case of Skype sessions we do a trial sometimes when you are not comfortable to operate Skype, to ensure we don;t waste time in session, before we go ahead for the actual session, and that is needed to check if we have a proper setting as needed for the session.
Q: What about counselling/consultation? Do you provide counselling/consultation as well or is it charged separately?Is it possible that I come only for consultation alone?
A:
Detailed in depth counseling/consultation is an integral part of every therapy session. Without that we don't even start a session.
It's not charged separately.
And we Don't offer Counseling Sessions in isolation, like in a psychiatric or psychological treatment, as without regression the counseling is meaningless.
It's just like putting an external balm on a deep wound, without finding the root cause of the problem, and not treating the actual cause of the wound. So, just a counselling session, means just providing information and talking from the knowledge base acquired by the intellect and conscious mind has no value at all, except to make you feel better for some time.
The real therapy starts in the session, when you are regressed and your subconscious is accessed by you. There lies the truth, there lies all reasons, there lies all the soul planning, and there lies all the solutions. Nowhere else.
Counselling alone or talking alone, won't heal you ever.
Q: I need a Life Between Lives therapy session to explore my Soul state. I have been told that LBL can be done only after a PLR session and not directly. However when I spoke with other PLR therapists, they said LBL is same as PLR and can be done anytime? I need to know what's the difference in your LBL session, and why a PLR is needed beore LBL?
A:
LBL session with Rashhi Sharma is not same as done by anyone who has not been trained by The Micahel Newton, Institute, USA. The term LBL is a registered trademark first used by Dr Micharl Newton who had done original research on LBL and have published the most acclaimed books on Life Between Lives.
It is to be noted that the LBL training with TNI USA is known as the Gold Standard in spiritual regression, the most advanced training course in this field. There are only 200+ certified therapists for LBL from TNI USA around the globe.
The LBL session with Rashhi is the one developed by TNI USA and it is a very unique session where we focus only on the exploration of the soul state, the in between lives state. This is a long session with very unique and advanced technique which ensures you don't fall back into a Past Life during the session.
In general every therapist uses the LBL term without even being trained in this work area. They may say that LBL state is normal during a PLR session, and that's all right as we pass through LBL states during PLR sessions for various reasons. Now, that is not a LBL session though as the LBL state is automatic there, without the therapist's control.
In the LBL session which are done as per TNI USA method, the LBL therapist ensures only a LBL state, a very deep hypnotic and spiritual state throughout the session, for 3-5 hrs!!
The below has link to the method and the explanation for the LBL session, that why we need o have a PLR session before LBL. Please explore it to know more.
Life Between Lives Therapy (This session is done after PLR only)
Fixed Fees/Session | Avg. time 5-6 hrs (not fixed)
Mode: Local face-to-face and Skype (after discussion)
Ckick here 

to know about the LBL session done by Sahaj healing, Rashhi Sharma
This also explains why the LBL sessions are done after PLR session only as per the process of TNI, USA, followed by Rashhi Sharma
Life Between Lives Therapy (This session is done after PLR only)
Fixed Fees/Session | Avg. time 5-6 hrs (not fixed)
Mode: Local face-to-face and Skype (after discussion)
Ckick here 

to know about the LBL session done by Sahaj healing, Rashhi Sharma
This also explains why the LBL sessions are done after PLR session only as per the process of TNI, USA, followed by Rashhi Sharma
Q: Is there any guarantee provided that I would be able to regress/progress and can achieve a hypnotic trance? If I am not regressed, would I get my money back and why not?
A:
It's an interesting question and once in a while it pops up.
To say simply, there are no guarantees, and no refunds.
Now, to clarify, why?
Mostly everyone comes for this therapy as a last resort, when they have spent lacs of Rs/Money already, and have had no results at all! But interestingly, when anyone comes for this therapy guarantee is asked. And we have not met anyone so far who has asked a similar guarantee from
Doctors, medical institutes etc. On the contrary, we pay lacs of rupees immediately, and we sign all the papers they ask us to sign, in case of surgeries etc.
And most importantly, if you came for a session, the effort is same, 100%, if you are not regressed, or if you are regressed.
If you are not regressed, there are reasons and we have explained who should not take regression/progression sessions and who can't be regressed and the reasons for the same.
Please read that answer in FAQ page very clearly.
Do understand that it's NOT a black magic that we do here, it's a scientific way and here YOUR MIND is involved and NOT the MIND of the Therapist,. We are not claiming that every human being can be regressed/progressed, NO.
Who can be regressed/progressed/Put into Hypnotheric Trance and who can't  be?
Who IS: Willing hinself/herself for hypnosis, is 100% Sane, and have a normal or Higher IQ and don't have the below ISSUES/Conditions.

Who Doesn't have these : Mental Diseases (Like Brain Degeneration, Schizophrenia, Severre Trauma (of any kind) from childhood/Adulthood/In Past, Severe Post Trauma Depression, Severe Physical/Mental Abuse/Torture, Sexual Abuse, Severe Dpression and on High Dose Pills, Hallucinated, Doesn't Believe in Process Hypnotherapy/Regression.

You Can't be regressed/progressed/Put into Hypnotheric Trance, If you are taing this herapy for DEBUNKING these.

If you Think and hvae a Mental Block that You'll have a  MOVIE Like Experience in the session, and that you'll see images, scenes like watching a Movie. This is Half Truth and we have explained it in Detail in the aattached document at the end of this page. Please read.

You Can't be regressed/progressed/Put into Hypnotheric Trance- If you have a SPIRIT/SOUL/ENTITY Attachment. This Attachment can be from this life or Past life. In Such cases the FIRST SESSION or 2 Sessions are for Spirit Release. Then Only any THERAPIST MUST proceed for Regression/Progression Otherwise it can be Dangerous and is not Prescribed at all. Remember Most of the Times the Client/You have No Idea that you have a Soul/Spirit/Entity attached with you. SO, mostly during the session only the therapist and Client gets to know that you have this attachment. So, If you are reading this, know that such sessions are one of the MOST powerful sessions, but you may not Regress/Progress at all, and you're LUCKY that you are in safe hands of Mrs Rashhi that she can take care of such ATTACHMENTS and release these. If you start questioning later that you did not regress/progress , even after knowing that she did Spirit Releasement, it would be a very DUMB excuse to say that the session was a Failire. Also remember that SPIRIT RELEASE sessions are Costlier than Normal Regression/Progression sessions so you MAY be asked to pay the differential fees for the same after the session is Over.
Please understand that in such cases, which we have mentioned above, the subconscious mind is not reachable easily and the conscious mind does not cooperate with you. The conscious mind is the key to reach to the subconscious mind. The conscious mind has a lot of trauma, stress, depression, anxiety– which is of higher order than normal, which the conscious can ssimilate, so it has already blocked and protected all the memories of the past because those are the very memories which have caused the trauma. When we talk about the past life memories or the future life possible memories, we are using or we are in the process of accessing a higher wisdom/dimension or the wisdom which is there in the subconscious mind. But to access this part of the subconscious, the conscious mind is the bridge. When we have lot of blockages in the form of trauma, which the conscious mind does not want to see, then the first step is to assimilate these memories which are of this life and which have caused the trauma. We have to make peace with the present life, we have to make peace with all the events which have happened in the past in the present life, these can be abuses by the family, by the friends, by your society, by your boss, by anybody in the whole world and also these would have happened in the past. The past can extend from the very moment you were born till the moment you are talking to us. So, within any moment of the past if the trauma has happened and if it is a very-very deep trauma which yoe never want to visit again because it was life threatening, it was disturbing your whole existence, then we use different hypnosis techniques of current life regression to release the trauma first, to dissolve the trauma first of this life. When this is done and it may take initial many sessions sometimes, two or three sessions, to come to a point when you have made peace with the current life issues the trauma which you have held within you, to release it completely and you're ready to see the events of the past, then only we proceed from there to step back into the past lives. And remember we have told again and again that not everything has roots within the past lives. There are many events, there many issues which originate from this very life- your present life. So, in case if your issues do not have any roots in the past life your subconscious mind is not a fool to take you to the past lives for those issues root causes, as there are none. Your therapy would be over by using hypnosis techniques which work upon the subconscious which have events of this life only.
Other reasons/explanations are at the end of this page, in a Downloadable PDF document.
So, in case you are unable to regress, there would be genuine reasons for that, which you would know yourself.
IMPORTANT: So, In case there is a Spiritual Attachment (negative or positive, Human or non-Human, and the client did not inform this earlier, and the Therapist get to know about it during the session, then what are the signs of Spirit Attachment and what are the actions taken by the Therapist?
Ans: 
It happens most often that the Clinet doesn't inform of the spirit attached or anything paranormal they have been experiencing prior to the session and the therapist is not aware of it. The reasons we have found out after 100's of Spirit Releasement sessions are-
The Client is really unaware of the Spirit Attached and the spirit attached is not causing any harm at all. Though It will always change the perception of the client about his/her surroundings and it will bleed over into the personality and the behavioral aspects of the client. Still, as these behavioral changes are not causing any sort of damage loss or social anxiety, personal mental issues,– the client often never knows that he or she has a spirit attached. Mosly the spirits which are attached in such cases are of family members, friends, past life children, close relatives, forefathers etc.

The client is aware about the changes in the behavior and is also able to understand that there is something paranormal going around him. But still, he does not believe in any paranormal activity or split attachments, he ignores these things going around and never reports to the therapist. 

The client is fully aware that he or she has a spirit attached or is impacted by paranormal activity around him or her. He or she has already approached other paranormal experts including tantriks, astrologers, regression therapists, llama fiera experts….. etc. He

willingly or knowingly

does not inform the therapist about his condition. The intention of the client is dubius. He is aware that in case he will inform the regression therapist about the paranormal activity or the spirit attached, he assumes that the regression therapist may ask for a higher fees or may even deny to take the session. So he cofortable and knowingly does not inform anything about the main reason he or she is visiting the therapist for, and assumes that it is the work of the therapist to deal with anything and everything which comes out during the session. This is a very irresponsible behavior on the part of the client end it's unfair as well. This can be very dangerpus as well.

The client is aware about the spirit attachment and he is very trump transparent about it and informed the therapist about the intention of the session and about everything which he is going through with the paranormal activities.
In the above cases the therapist has two options.
1. In case the therapist is aware and has been informed by the client in advance about the spirit attachment or paranormal activities then the therapist is prepared to take the case or reject the case. If the therapist take the case then they'll do whatever is necessary for spirit releasement how to find out the root cause of the attachment. As the attachment can be of a human nature or of a non human nature, the therapist must be capable of handling both as it is not known before the session if the attachment is human or non human. in case the attachment is non human, the therapist must be capable of dealing with it as well. It can be dangerous without proper training in shamanism or other related paranormal fields. 
2. In case the therapist was not informed by the client about the spirit attached or paranormal aspect of the session, the therapist will find about these things during the session. The client who has got a spirit attached will start behaving in an abnormal way during the session when he or she is regressed. The eyes may roll out completely back, the body may start shaking, the limbs may get twisted, he or she may start speaking  in a gibberish language , they will not listen to the instructions given by the therapist, their voice will change– a male can talk in a female voice and female can start talking in a male voice or the voice modulation will completely change.
When the therapist will notice these signs, they will understand of paranormal activity or a spirit attachment. As the therapist was not informed prior to the session about these things, mostly they should stop the session immediately after giving a proper closure to the session. Please note that the therapist can never add anything extra from the outside or cannot add anything paranormal into the body of the client as the therapist is always doing it in a protected environment. The therapist after the proper closure will guide the client to contact someone who is an expert in paranormal and only proceed for regression all progression once the spirit attachment has been taken care of. Remember that not every past life regression therapist has the capability to handle spirit attachments, so Please ensure always to inform the therapist — who has the only intention to help you— prior to the session itself about spirit attached and what did you do about it as well ,so that you are not wasting your time and their time and not putting anyone in danger.
The Spirit Release sessions have different pricing , its not same as other PLR sessions.
Just to note, our success rate is more than 99% as we have mentioned and explained why.
Q: I booked a session (face to face or Skype) on a specific date, but I can't attend now, I want to cancel it for personal reasons, would I get a refund?
A:
NO, once session is booked the booking amount is not refunded if you cancel the session yourself. In case we cancel the session, the amount is refunded fully.
Also,
In case you need to change dates, it must be informed a week in advance, AND
the booking fees is not refunded or adjusted.
It's because, that slot may go empty, which could have been used for helping someone else.
If you inform a week in advance, we can do a date change easily.
In case of Skype/Online session session, the booking amount is the full fees, that is not refunded after booking.
Q: I booked a session (face to face or Skype) on a specific date, but I have to leave the session in between because of my personal reasons, can I get a refund?
A:
NO, once session is booked and its already started, and you have to leave the session for any reasons, refund won't be provided. Also, you would need to pay the full session fees before leaving the session. It's applicable for both Skype and Face to Face sessions.
In case we stop the session in between we would refund you full amount paid.
Also,
It's because, that slot would go empty, and we have already planned the time for the session in progress.
Q: I booked a session on a specific date, but I was unable to attend the same. I could not inform this a week in advance, so would I get a refund of my booking fees?
A:
In case you need to change dates, it must be informed a week in advance, else the booking fees is not refunded or adjusted for the next date.
It's because, that slot may go empty, which could have been used for helping someone else.
If you inform a week in advance, we can do a date change easily.
Q: What's the process of resheduling a therapy session once it's booked?
A:
You need to inform a week in advance, please see the above question for details.
Rescheduling is done on mutual consent, as per the slots availability only.
Q: Shall I come alone or I need to bring someone along with ne during a session?
A:
We don't allow anyone in the therapy room once the session starts.
During COVID 19: 
Till COVID-19 medicine is released, we don;t allow anyone to accompany you or meet Rashhi, only the person who needs therapy can meet Rashhi. This is to ensure her Safety and minimum contact for her as well.
In normal times (when COVID-19 is not there)
However, before that, during discussion anyone can accompany you. But once the session starts they would need to leave the room, and wait outside only.
Q: I would like to record my session as I think I wonlt be able to remember being in trance, and I need to review it later, so is it allowed and what's the reason for that?
A:
We don't allow any sort of audio or video recording during sessions.
Please ask us why, by calling us directly, as we can explain better as it involves citing you some examples which we can't write down here.
Now, for the question of remembering what happened in the session, understand this very clearly please that,
– You are not sleeping in these sessions, you are just relaxed, where your conscious mind's critical faculty is calmed down. So, you are wide awake and conscious and know and feel everything around you normally.
– And secondly, in this relaxed state, you remember better than your normal memory, so you need not to worry about it. You remember each and everything better than in your normal state.
– We ask you to write down everything, once you get time, for later reference. As there would be events you would like to understand and discuss later as well, which you might have not told during the session, and have kept to yourself only for any reasons.
Q: I am coming from outside Bangalore and would need to stay here for therapy, so for how many days I must come prepared?
A:
We can help here.
You need to write down an email to Rashhi. Then she would discuss with you and guide regarding the number of needed face to face session.
Accordingly you can plan your travel.
Q: Can I get a discount on the session fees and how?
A:
No. Sorry No discount is offered on sessions, irrespective of the number of sessions you take. Each sessions is charged individually at the same cost.
Discount special case:
You are financially poor to support the therapy and are in a real need. We keep this decision to provide discount or not to our self, once we have checked thoroughly.
Q1: What is the goal of the Integrated hypnotherapy (IH) session/s? How do this work?
Every Integrated Hypnotherapy session which is conducted has the following goals:
1. The sessions are done to resolve issues from various areas of your life, these areas can be either, spiritual physical mental or emotional.
Whatever the area is and whatever the problem is, it has a root cause. Without finding the root cause any sort of solution which is given is of no use at all.
Note: If you don't agree to this statement, please do not read ahead.
So, Let's understand this with an example. Suppose you go to the doctor with a fever and the doctor just prescribes you paracetamol and asks you to go back without doing any sort of diagnosis for the fever, do you think it will help you to get over with the fever? Now let's look at it a little bit more closely. Fever is not a problem in itself mostly, if it's under control; fever is a symptom. Fever can have thousands of reasons, the fever can be brought down for a couple of hrs easily by taking a pill of paracetamol, but by this we are just working on the symptom and not on the problem, not on the root cause.
Now think that you just keep on taking paracetamol for seven days, whenever you have fever, the fever goes down, again shoots, again paracetamol, and so your fever temporarily goes down while you take paracetamol and again it shoots up…. what do you think is the problem here? The problem is that without doing the root cause analysis you have been treated only for the symptom. This is what happens mostly when we do not look at the root cause. All the issues whatever we have.. mental, physical, emotional or spiritual they have a root cause, and the root cause can lie only in the past. To reach to the root cause, we must look into the past and this past can be the past from this life or this past can be the past from your past lives or this can be the time which you lived in your mother's womb (9 months or less), the nine-month time. Now, let's go back to the doctor's situation again. If the fever does not come down, the doctor must do some blood tests or some scans as per the symptoms and these tests will reveal the root cause of the fever. The root cause can be a bacterium a virus and infection etc. Now, the prescribed medicine which is as per the root cause analysis will definitely help you to eradicate not only the fever, which is a symptom anyway, but also the root of the problem and you will get healthy slowly as per natural timeline.
This is the exact situation in all the other issues of the life, we generally look at only the symptoms and never at the root cause. Anxiety, depression, bad relationships, financial issues, panic attacks, different medical conditions which might not be even treated by the medical science, OCD, Spiritual Attachments, Curses, Vows, relationship issues, feeling anger, alcoholism, drug addiction, any sort of addiction for that matter, or anything related to the spiritual life or your physical pains of the body de-generations which happen in the organs in any cell of your body… the list can be endless… pertaining to human suffering… whatever happens has a root cause.
We generally see the symptoms only outside, the symptoms can be anxiety, depression panic attacks, skin disorders, not having a balanced mental condition, anger on somebody, conflicts with your boss, addictions, feeling jealous, feeling low, feeling underconfident, having impaired speech, Autism, not able to focus on the work, feeling lost, getting a sense of not belonging here… It can be anything… mostly these are all symptoms not the problems.
The problems, the root cause have to be found out to understand that why does all things happen and manifest in a specific way. Root cause will point out towards a deep belief system in the subconscious mind, and/or an event which has happened in the past which you might remember or you might not remember, which has the seeds of the beliefs, this can be something from this life or something of the past lives, or might be from the time period you have spent in your mother's womb, or might be from a combination of all of these timelines. In our IH sessions we allow you to access that part of the subconscious memory, that part of your soul journey which has made that belief system which has the necessary memories of that trauma, which has the memories of that event which has given rise to the situations, the problems, the symptoms now which you are facing. We can use clinical hypnotherapy, spiritual regression, womb regression, inner child healing, past life regression, shamanic healing, life between lives, psychic abilities, many other consciousness expansions related and different techniques to uncover the root cause. (Note LBL/FLP/Shamanism/Akashic Records are not a part of IH session)
2. Once we have identified the root cause, it becomes very easy to hope that something positive can be done about it, to resolve the issue. So, now, we move to the second important part which is to solve the issue, which is to eradicate the root cause or to change something within us, within here means in the subconscious or in the journey of the soul, at the belief system level, which is not serving any good, positive or progressive purpose in this life and which is the very reason for the issues, the negativity, the challenges you face. Again, this can be either from this life time OR have roots in the past lives or in the mother's womb and it can be spiritual, mental, emotional or physical… anything at all, but the underlying principle for everything is the same.
The sessions we do have this very important part, which is the healing part, or to look into how the healing can be done, how to find out whether we can change something or not for this situation. Please understand that the therapist has no superpowers or external powers to make these changes. All the change has to be internal and has to be In Sync with the planning of the soul, has to be as per the permission of the subconscious, as per the permission of the guides and the masters (of the client) and your own belief system. And the most important part is the person who is taking the session, his/her openness, his/her acceptance, his/her non-judgemental attitude, his/her patience and understanding that the issues which took 1000 of years to manifest/ripen can't be undone in couple of hrs of months- it would take time naturally, and his/her conscious acceptance of whatever comes during the sessions, whatever is revealed during the sessions — is very important. It happens a lot of times I would say initially, if it is the first IH session, and it happens nearly all the time that everyone thinks that whatever memories,whatever events, whatever the past is revealed during the sessions, is an imagination for them and it is not real. This we have explained in another question below please read that out that why it happens.
Now the important thing is that the change will only happen once you accept everything which comes out of your own subconscious mind which is your own truth and you participate fully in the session without any distrust, without any disbelief, without putting your logical critical, analytical mind into it …without analysing any information coming out of subconscious mind. If you will NOT do all of this, nothing will happen, the session will not help you out in any way you will just lose your time and money.
So, a complete acceptance, a full openness and the trust in your own subconscious memories and the journey of your soul is very important for the success of the session and for a speedy and fruitful recovery from the issues. If you can't do that, please don't take any sessions from us, and please don't bring out these issues on the table AFTER THE SESSION IS OVER… that it was all my imagination, I think I was not there, these were all false memories, I don't accept it…
We won't be able to help you in any way as the therapist has done the best of best possible work for you and it is now only you who is rejecting all the work done. So, please do not book a session if you don't trust the process and will reject everything as imagination later.
Please remember again it is your own soul journey, it is your life, it is your past, these are your self-created problems over thousands of years, we are just helping you out to find out the root cause and then in healing these, and all the needed help is provided by your subconscious mind and your own belief system, open-ness, acceptance. We would help you to find out the root causes and also will try to make the changes whatever is allowed and whatever is possible as per the laws and process. Remember that not everything is possible because sometimes your subconscious, your guides your soul journey will not allow that change, so you might have to suffer for a time, till you are ready to learn that lesson, understand the truth, gain that wisdom, so you might have to go through that event which is a life lesson for you and we can't stop it, but definitely after the session you will understand and you will/may have the wisdom to know why it is happening and what you must not do and you must do when it happens.
In case of issues dealing with paranormal, spirit attachments or entities or curses or contracts or vows, the sessions might be complex ant it might drain you out. You can and must call us and tell us specifically if you know/feel the issues are of paranormal nature.
So, the only goal to help you out is to find out the root root cause of the problem and then see what changes can be done.
Q2: What can be expected in your integrated hypnotherapy sessions?
A:
The Integrated hypnotherapy sessions are unique in the sense that these integrate all possible elements of both spiritual regression (spiritual hypnotherapy, womb regression, inner child healing, past life regression), and clinical hypnotherapy. What do you need in the sessions is decided by Mrs Rashhi Sharma or the therapist who is helping you out. You might have issues or questions which have answers or solutions only in this life or you might have issues which have answers or solutions or roots only in the past life or you might have issues which have roots or answers and solutions both in the present and the past life. Depending on the issue or issues and the nature of the issues i.e., physical, mental, emotional or spiritual we will help you out. What would be done in the session would be decided after the discussion and process which is which happens during the start of the session. You cannot say that I need only hypnotherapy or I need only past life regression etc. This applies for the integrated hypnotherapy session. You have to leave the decision on to the therapist as she is the expert here not you. In case you think this is NOT good for you and ONLY any specific modality should be used, as per your guidelines, decision, …. then please don't visit us.
So, you can expect any of the techniques which we listed above during the integrated hypnotherapy sessions as per the problems you bring to the table.
Q3: Would the PLR/Regression/LBL therapy sessions be done/experienced as described by Dr Brian Weiss in his books, with vivid movie like imagination, scenes, fantasy, experiences?
A: this is a very good and important question. Many of the clients come for past life regression therapy after reading books written by doctor Brian Weiss. These books are a great inspiration and provide wonderful insights about past life regression therapy. But, mostly no one knows that these books had been written after doing a number of sessions, on a single person, over a time period of years.
The books just compile only the best experiences and the learnings out of those numerous sessions done on a single person, in a story-like, fantasy-like way, so that you enjoy reading it. Also, the client of doctor Brian was a lady who was visual for the subconscious memories. What does it mean to be visual for subconscious memories?
So, let's understand this closely as it is very-very important for you and it has never been mentioned in any of the books of doctor Brian Weiss, as the books are not training guides for PLR, so these don't explain the concepts in the way you must know it before taking a PLR session, from a practical point of view.
During a IH/spiritual regression, LBL session we visit our memories, our past memories, these memories can be of this life, of mother's womb, in between lifetimes, or of past lives. The memories are projected to you during the regression session by the subconscious mind as per the issue at hand. Or we can say that based on the question or based on the problem, and the INTENTION of the session you have developed, the subconscious mind makes us aware of the root cause of or of the origination of the belief systems which are related to the problem at hand. The origination or the root cause can be projected before us in many forms… in form of images scenes sounds, thoughts, feelings, emotions, light, colors, symbols, telepathically, by a sense of just knowing it… you can even get these while you say… I'm not able to see anything at all!
So, you can be visual OR you cannot be visual at all. And it has no relation with the quality of the Past Life Regression session, or with the exploration of the subconscious memories. Remember that, this is your unique way of interpreting the subconscious information and it has nothing to do with the therapist or with anyone else in this whole world for that matter… None is like you in the whole universe, and none can interpret the information in the unique way you interpret. And this is what makes the work of the therapist very important here, to make you move forward in the session irrespective of the way you interpret information.
It means that you can be a person who can see/visualise the past, who receives information from the past, from the subconscious mind in the form of pictures or scenes OR you can be a person who does not receive information from the subconscious in the form of pictures or scenes. In doctor Brian bis books, Catherine was a visual person, she was a visual lady. So, she was able to receive information from the past in form of pictures and scenes which is very fascinating. But there are moments from the books, if you can remember, where she says she just feels, she just receives the information telepathically, she does not see anything, where she is communicating with the higher self or the guides the masters or from a higher being. In those moments she's not seeing anybody, she's not visualizing anything, but she just knows about the information, about the wisdom she is relaying.
So, the problem is that if you have only read these books, you'll think and expect that your PLR session will also be similar to these sessions, and you'll also see everything clearly like a movie as described by Dr Weiss in his books, right? But this is only half of the truth, its only session of 1 lady, and 1 of the many possible scenarios. Read below.
So, you can be either visual or not or can be both at times. If you are visual, then you will have vivid imaginary you will see scenes, you may also listen, you will/may feel as if the moment of the past is happening in front of you now again or might be you will see flashes of scenes like images flashing before you, before your eyes with sound or without sound but you will have an awareness of what is happening you will have full understanding of the scene and its surroundings you will just know it, or might be you are somebody who is not visual at all.
If you are not visual at all, it is generally thought of/said that you cannot visit your past lives. Which is completely wrong. If you are not a visual person you might be a person who feels, who communicate telepathically, who just knows about what is happening around you, who can see symbols, colours, light, feel presence, can hear sounds, who can smell, who can sense everything around without even looking at it. These are our other powerful senses which work just the way the visual imaginary works in a past life regression or any sort of regression session. The exploration of the subconscious mind, of the past, of the events which are related to the problems at hand is not impacted of you being visual or not visual at all, there is no difference at all at the results level. But, sadly due to the misinformation, due to the image that is created by few books, untrained therapists, etc., everybody thinks that you must be visual, you must see everything like a movie during a regression session, which is absolutely not true. And this expectation of being visual and thinking that then only the session is an absolute success, then only this was regression session, is a big myth and hurdle towards the session and you can feel un-satisfied even after the most beautiful and powerful healing session.
Also, it is a capability of the therapist that even if you are visual or you are not visual— in any situation, she is able to help you out to get to the root cause, to explore the subconscious soul memories, to find the solutions and to help you out for the reasons you have visited her. Initially, in the first session you might feel lost, you might feel the session was incomplete, it might not match your expectations, and the only reason is your preconceived false notion from the books that you have read, the half information that you know and which is not true at all. During the session you would be given all the information which is relevant to you, you will be told about all the truths again and all the facts you must know and all your myths or wrong information which you carry from YouTube, wrong books, untrained therapists, from the persons who have no idea about how it is done in a right way— all will be clarified in detail.
Still, as we have explained it here already, it is your decision to go ahead and book a session or not. If you agree with the information presented above and you're open enough to take the help in the best ways possible we are always ready to help you but once you make a decision, please understand all the points which we are mentioned above and stick to these. So, if you say after the session that I was not able to see/visualize like the way it is described in books of Dr Weiss, or like a movie, and try to dis-credit the session because of this, falsify all the efforts of the therapist— please remember that it would be of no use, and it won't be taken as an excuse for any needed action from our end.
Q4: How would I see/experience my past (of current life, mother's womb time period, past lives)?
A: Information during a regression/hypnosis session can be relayed in different ways. It depends on whether your senses allow you to

be a visual person or a non-visual person who perceives information in other many different ways. We have tried to explain this in detail in the above question please read it carefully.

To summarize it here again, we can say that you can either be a visual person or not. It means that you can either see/feel in form of scenes, pictures, your past life events or the information from the subconscious, your current life past events or anything from the past which you might remember or might not remember, OR you are not visual and you might receive information in different other ways, just have different senses other than being visual, which will enable you to receive the information and to proceed in the session. It can be either via hearing the sounds, just knowing it, feeling it, having a telepathic communication, just getting aware of everything around you, might be able to see flashes, or in thousand different ways which your conscious mind is not aware of or your limited knowledge has no information of. In the spiritual plane or while communicating with the subconscious mind being visual is of very less importance. Even if you are not visual you can still receive all the information in different ways and it does not impact the quality of the session at all. But if you are here with us (for IH session) only to see it visually and you insist that you will only consider the session as fruitful or successful once you visualize/see the information from the subconscious, the way it has been described in Dr. Brian Weiss books or visually or like scenes or a movie, then please don't visit us.
And remember that this can't be taken as an excuse after the session, citing that I could not see anything, I was just telling what came up in my mind, and I think that I made it all up!!!
Q5: I feel everything in the Hypnosis OR spiritual regression (LBL, Hypnotherapy, womb regression, inner child healing, PLR) was just my own imagination or I was making up everything and it was not really my past. I am not ale to accept it as truth or helpful. What is the truth?
A: this is one of the most important questions about a spiritual regression session, or a hypnotherapy session. Before I answer this question, I would like you to imagine your first school now. Now just make a mental note how did you receive that information and did you believe it to be true. You might have seen a picture of the school, you might have seen a complete video of something of your school, and you might have heard sounds, smell smells, as well along with the scenes or the picture., or you might have only felt or might be the name of the school only popped up like a picture, idea, in your mental sphere. And when it happens you would be trusting the information because it is something which you think and you know that you have lived which is true too as far as your current life memory goes.
Now, I ask you to tell me something else. Now suppose you died and you are in your next life, and I ask you the same question but now the question is about your past life, during a spiritual regression session, that what was the name of your school in your past life how did it look. You are connected to your subconscious mind now and your subconscious mind has restored the information in the same way as it is in storing now for your current life so it will show you or make you aware of the name of the school of your past life, tell you about it, make you feel about it in the same way that you feel now, see the school of your current life, right. But there is a very big difference here, what is it?
The difference Is that the information of the current life is something which you trust, which is a part of your conscious memory of this life as well, so you take it. Your conscious mind does not create any confusion to accept it, it does not look like any imagination to you, but you accept it as a fact. On the contrary any information which you don't remember consciously like the information from the past lives, from mother' womb, from early childhood of this life, will be like an imagination to the conscious mind.
Even the information of the present life for example the memories of you being a one-month-old or just being born which are not in the conscious mind which you don't remember consciously, but these can be retrieved during a regression session easily (this is what happens all the time in a spiritual regression) with the help of the subconscious mind, and these will also look like imagination to you, to your conscious mind. But the good thing is you can still verify these from your mother from your father from your siblings from your friends if somebody remembers them remembers it consciously.
So, the point is, anything which is not a part of your conscious memory, and please do remember that the conscious memory is very small just 3 to 4% and it is not permanent, will always feel/appear to be like an imagination. So, all the memories which are retrieved during a regression session which are not from your conscious memory, which are not a part of this life, will look like an imagination to your conscious mind.
The conscious mind will always try to create a conflict and will challenge/discredit this information, will create this doubt, and it happens usually in the first session always as it is the first experience of your subconscious memories. But you also know that this is why you are here with us, to explore the un-known, the subconscious which you don't remember consciously— that is why have you booked an IH therapy session, don't you know this? Still, it is surprising when some clients ask this question repeatedly after the session is over, and after a wonderful session where they visited a lot of past events and a lot of relevant past lives, but they are not ready to accept the information as valid, true, and claim it to be all imagination only, all made-up information only— and then they try to blame the therapist!! They however were with the therapist only for regression session which meant only to retrieve those memories which are related to their problems and which are not a part of their conscious memory, which they don't remember at all, which are not from either this life consciously or not from this life at all, are from the past lives, and these all memories will look/seem like an imagination to the conscious mind always!!
So, if you are booking a session with us, this would be told to you repeatedly again in the session as well about the imagination and about the subconscious memories and how the conscious minds will try to reject these as imagination. You would have to trust the process, the therapist and most importantly you should not judge the information right after the session (clients start judging in 24 hrs, 3 days/week analyze/dissect it, and try to make logic out of it – which is 100% wrong) or any time after the session, BUT give it proper time to assimilate within you, with conscious. This is a process which unfolds in many ways and you'll be guided in end of session. It may take weeks, months to assimilate and get the awareness in a lot of ways, which will be told to you during session many times.
So, if you are coming here to challenge the information whatever you have received from your own subconscious mind and would try to put it as an excuse to ask for a refund that this session was all imagination, and you made it all up, and not a real one, we are sorry to say that, this would be a very lame excuse and it would be a disrespect to the wonderful work done by the therapist. So please do not visit us if you don't believe the process if you will challenge the information which is coming from your own subconscious mind and reject it completely as imagination or all made-up, after the session or label it as forced imagination. There are no refunds provided on this claim that the session was only my imagination and not a reality. Please note that all the information from the subconscious mind would always look like an imagination to yourself and to the conscious mind as these memories are those which you don't remember and your conscious mind has no idea about these.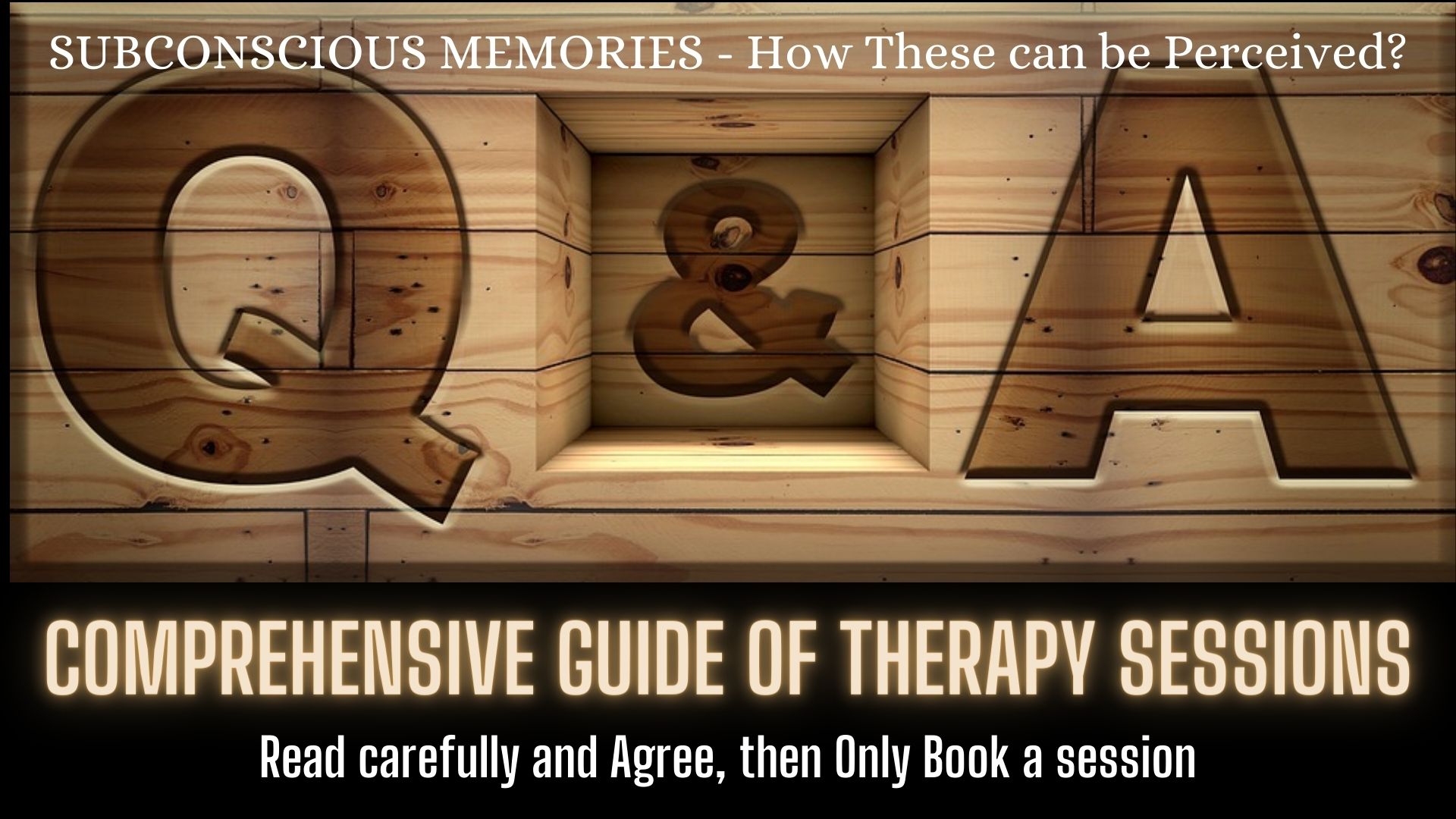 CLICK HERE TO DOWNLOAD THE Q n A,

and all the DETAILED answers to the Therapy Process, What Happens in a session, Post Session, etc. You MUST read this completely before taking a session, as it answers many Complex questions and critical scenarios which help you to decide if you really want to book a session with us or not.
NOTE: We won't be answerig any Question after the therapy session is done, the question which is already a part of this document. Once you book a session, you must read this, agree to all the terms and conditions and accept/understand completely everything which is detailed in this comprehensive GUIDE.